Winter is cominghere!  As snow fell on the northeastern states this weekend, cocktails made with ice seemed less attractive.  It is the time of year for warm drinks like tea, coffee, hot chocolate, egg nog, and of course apple cider.  Apple cider combines amazingly well with almost any spirit or wine, and there is nothing like a nice warm spiked drink on a freezing snowy day. There are wide variety of great recipes involving hot cider, and these are a couple of my favorites (in no particular order).
1) The Orchard Boulevardier
This great drink is a delicious, season appropriate nod to the classic boulevardier cocktail.  The strength of the rye and the bitter-sweetness of the Campari blend well with the sweet vermouth and tart sweetness of the hot cider to make an amazing drink.  Old Overholt or Bulleit Rye work quite well in this drink and Dolin is my go to sweet vermouth.  If you want to make this drink really special (and a lot more expensive), try using Carpano Antica.  This premium vermouth has a wonderful & mysterious  dark quality that compliments the apple cider perfectly.
2 ounces Rye whiskey

1 ounce Campari
1 ounce sweet vermouth
4 ounces hot cider
(optional) garnish with an orange twist
Get more details on this cocktail.
Total cost per drink: ~$1.92
2) Salty Maple Buttered Cider
There is something special about buttered rum, and when you mix that magic with hot cider, there is nothing quite like it.  Warm, rich, silky, and filling, this delicious combination of salty-sweetness will make you keep going back for another cup.  There are a lot of great spiced rums on the market, but there is a special place in my heart for Kraken.  Not only does it have a great name and beautiful dark color, but it is also overproof and has strong delicious notes of caramel and vanilla.  Great compliments to almost any dark rum drink.
2 ounces dark rum
4 ounces hot apple cider
0.5 ounces lemon juice
1 tablespoon maple syrup
1/2 vanilla bean (seeds removed)
dash of salt
Total cost per drink: ~$2.23
3) Hot Spiced Drunken Apple Cider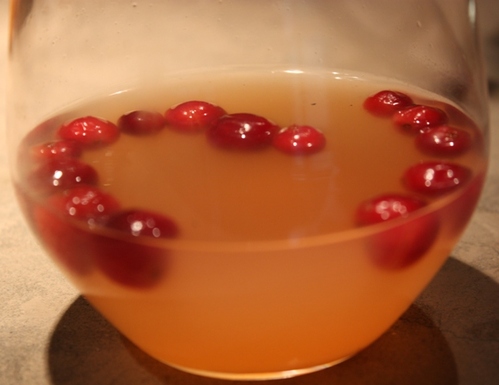 This recipe combines to great winter favorites – mulled wine and hot cider.  The cider adds even more flavor than the traditionally mulling spices alone, and the wine compliments the cider's inherent fruitiness while adding a healthy portion of alcohol.  If possible you want to use a wine that is neither too sweet nor very dry, and I find that the Whole Foods and Trader Joe's brands of Chardonnay (Three Wishes and Charles Shaw, respectively) work quite well in this recipe.  The quality of the wine doesn't have to be exceptional as any less desirable characteristics will be masked by the spices and apple cider.  I find it easiest to make such drinks in large batches, as they are low in alcohol content and as soon as I drink one, I usually don't want to wait before I have more.  This recipe should serve 8-10 glasses, and is perhaps at its best when shared with friends or family.
1/2 gallon apple cider
3/4 bottle of white wine
4-5 sticks of cinnamon
4-5 cloves
1/4 teaspoon nut meg
1 vanilla bean (split lengthwise)
3-4 tablespoons honey (more for drier wines)
1 cup fresh cranberries and/or apple cubes for garnish
Total cost per drink: ~$1.24
4) Hot Rosemary Whiskey Cider
Of all the cocktails in this list, I think this one has the most unconventional and unique flavor profile.  Rosemary is not an often used or thought of spice in cocktails, with spices such as mint, basil, and cinnamon doing the lion's share of the work.  However after trying this drink, I think I will be using more rosemary from now on.  The flavor provided by the rosemary beautifully compliments the oakey notes of the bourbon and mellows the sweetness of the cider, creating a wonderfully savory cocktail which is sweetened to perfection by the rim of brown sugar.  This is one of those times where the rimming is actually very important to the flavor of the drink, so I wouldn't recommend skipping it.  The five extra seconds it takes to rim a glass are well worth it.
1 oz Bourbon

8 oz apple cider

1 rosemary sprig, chopped
brown sugar for rimming
rosemary sprig for garnish
Learn how this cocktail is made.
Total cost per drink? ~$1.55
5) Hot Cider Nog
Despite both eggnog and hot apple cider being seasonal holiday favorites, I haven't seen many people try to combine them.  This drink is amazingly rich without being too heavy, and the wonderfully creamy texture enhances the smoothness of the bourbon and apple cider.  Just remember, with this drink and the others as well, to pour in the spirit after you have stopped heating the rest of the ingredients – you don't want to waste the precious alcoholic goodness and the tangy finish in this unique holiday beverage.
8 oz Bourbon
16 oz half-and-half
8 oz milk
8 oz  apple cider
2 large eggs
1/2 cup sugar
1/4 tsp cinnamon
1/8 tsp salt
1/8 tsp nutmeg
top with whipped creme
garnish with cinnamon sticks, cinnamon, and/or apple slices
Detailed cooking instructions found here.
Total cost per drink? ~$1.86
6) Basic Spiked Ciders, like Kraken Cider
As this recipe from Kraken Rum illustrates, spiked ciders don't have to be complex to be delicious.  Some of the best spiked ciders I have ever had have simply involved heating up some cider on a cold night and adding a little of your favorite spirit, stirring it in with a cinnamon stick.  Not only does it enhance the flavor, but it gives your drink another warmer touch.  Almost any spirit will work, especially the "brown spirits" like whisk(e)y, cognac, brandy, and rum.  Even clear spirits may surprise you though, especially with flavored varieties like whipped creme vodka.  At the end of the day, the key to a good spiked cider is to have fun and experiment; if you do that, cider will undoubtedly add a bit more cheer to your holiday season!
2 oz Spirit of Choice
5 oz Hot Apple Cider
Garnish with a cinnamon stick or apple slice
Total cost per drink? $0.80+ (depending on spirit)